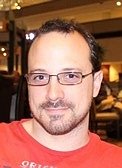 Registered user since Thu 25 Aug 2016
Bio:
Mike Papadakis is a research scientist at the Interdisciplinary Centre for Security, Reliability and Trust (SnT) at the University of Luxembourg. He received a Ph.D. diploma in Computer Science from the Athens University of Economics and Business. His research interests include software testing, static analysis, prediction modelling, mutation analysis and search-based software engineering.
Affiliation:
University of Luxembourg
Research interests:
Software Testing, Static Analysis, Prediction Modelling, Mutation Analysis and Search-based Software Engineering.
Contributions